Incepted years ago in this domain, we are engaged in manufacturing, supplying and exporting the premium quality of Modular Workbench. We are considered to be the sole leading provider of Industrial Storage Solution and Service Provider in space utilization. Our well flourished manufacturing unit is based in Ahmedabad, Gujarat – India. We are happy to say that, our team is working to bring alive of your dream workbench. We emphasize comfort and aesthetics while delivering well designed, modular workbench for all your furniture solutions.
We are involved in offering our customers home and office furniture, along with solutions for laboratories, hospitals and healthcare establishments, education and training institutes, shipyards and navy, auditoriums and stadiums. We are flourished across India with the brand name of Maxstor and our customer can avail the products at the best price compared to other manufacturers in India. We are involved in offering Workbench, Workstation, Aluminium Profile Workbench, Tool Cabinet, Tool Trolley, Tool Cupboard, Perforation and Bin Trolley, Perforated Panel, Assembly Workbench, Pipe and Joint System, Drawing Filing Cabinet, Packing Workbench in Manufacturers Chennai, Bangalore, Hyderabad and Pune.
We are engaged in offering a robust and sturdy product, efficient service and performance that keeps the customer approaching us back again and again. With the support of the technological progress, we are fully engaged and aware of our responsibility towards the world environment and our main aim is to achieve the enormous possible environmental compatibility in our manufacturing processes. We have established a state-of-the-art infrastructural facility and skilled professionals to manage and meet the precise needs of our clients. Our manufacturing unit is well-equipped with the latest machinery, equipment and other tools that are required for carrying out standardized operations.
What is meant by Modular Workbench?
A Modular Workbench is a fold-out work table, a roll out table saw stand, a miter box table and lots of storage – cabinets, drawers, pegboard and shelves. We are foremost organization involved in manufacturing the Modular Workbenches that are designed to be easily too adjusted to suit the necessities of any particular task. These offered Modular Workbenches include a variety of modules, such as plastic bins, shelving and tool racks to enable workers to easily reach components and perform their work comfortably. Further the modular furniture maximize the use of space, with bins and shelving stored above and below, crucial in any manufacturing environment where space is very limited.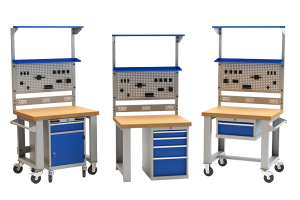 Description of Modular Workbench
We are foremost company involved in manufacturing, supplying and exporting the superior quality of Modular Workbench, which often referred to as cubicles, are work stations that can be adjusted and moved in diverse configurations in order to adapt to a specific worker's requirements. These offered Modular Workbench contain components that can be rearranged, such as modular shelves, drawers and cabinets. Manufactured Modular Workbenches are advantageous due to their adaptable, having large working surfaces and wraparound comfort, and meet ergonomic necessities.
Efficient modular workstations help to organize and utilize all items sort out and use all things necessary to carry out particular occupation obligations. They are utilized as a part of a wide range of industry regions with a specific end goal to help expand specialists' profitability.  They can also be customized to fit particular environments. Customized modular workstations can help to optimize work areas, making sure all space and compartments are being used efficiently by workers. Modular Workbenches are particularly beneficial for applications and industries including: laboratory, for use in computer workstations for research applications; office, for use in designing cubicles for various departments; and industrial, for use in process control and factory automation applications
Features of Modular Workbench
Height adjustability, sometimes over a wide range
Incorporation of various material transfer technologies into workstations (ball transfer, conveyors, flow racking, etc.)
Provisions for computing equipment and peripherals, wire and cable management
Tool-free set up and changeover to reduce set up times and simplify changeover
Use of mobile workstations and production lines; retrofitting of mobile bases to existing workstations, parts carts and equipment carts
Increased emphasis on the use of vertical space, above and below the work surface, to shrink workstation footprint and improve reach and grab efficiencies
Great variety in workstation sizes to accommodate a wider anthropometric range of users
Use of color to code workstations or processes, such as green for lead-free areas
Advantages of Modular Workbench
We are involved in offering workbenches that are manufactured from many different materials including metal, wood, stone, and composites depending on the needs of the work. We are offering different types of workbenches that are divided according to the particular work they are designed to accommodate. Our clients can choose the workbenches designs that depends upon the types of projects you are doing as well as the place in which the workbench will be installed. Few of our offered workbenches are very easy to assemble due to its simple design, and while the other complex workbenches require a good attention to detail and skill. The below mentioned are some different types of workbench designs.
Why Maxstor Modular Workbench is Unique?
Maxstor is the leading manufacturer and designer of flexible and high quality storage solutions for our domestic clients. The below are the unrivaled features of us, due which our offered Modular Workbenches are considered unique.
Offering Innovative products and Processes
Flexible and Customized Solutions
Modular and Scalable design
Designed and manufactured according the standard norms
Unrivaled Quality and Durability
Customer-focused in everything we do
Modular Workbench price in India
Our offered special ranges of the workbenches are ideal integration of quality and precision. Our offered ranges are demonstrated gathering of the world class items, accessible at industry leading prices. These adaptable and flexible workbenches are accessible with assortment of choices like aluminum profile workbenches, particular workbenches and furthermore work station. The scope of workbenches is open with extraordinary determination for the seat tops, cladding alternatives, aperture boards, customizable drawers and racks and different arrangements.
Our work station is astute adjustment of workbench. It gives most extreme working space and conditions. Aperture boards and indecencies are given along different table best choices, which is ideally shield the best from oil, soil, water and oil. Power supply alternative can be accommodated the power devices.